Jun. 07, 23
In order to lift and move materials over small distances, forklifts, which are powered industrial trucks, are used. A forklift is also known as a lift truck, a forklift truck or a fork truck. Let's learn about the different types of forklifts and their common uses.
Types of Forklifts
The main types of forklifts are diesel-powered forklifts, LPG/petrol-powered forklifts and electric forklifts. Let's take a brief look at the various types of forklift trucks and their uses.
Uses of diesel-powered forklifts
The diesel forklift truck is one of the most powerful workhorses in the materials handling sector. It is ideally suited to a wide range of unit loads and can withstand the rigours of outdoor work.
Diesel-powered forklift trucks are available in capacities ranging from 1,000 kg to 10,000 kg.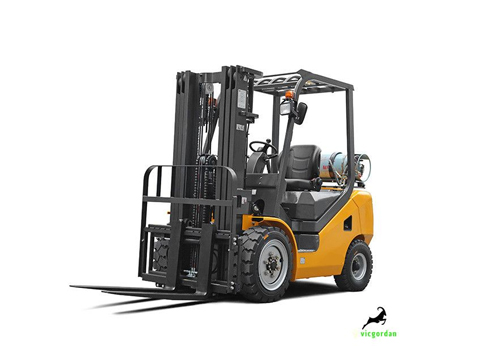 1.5ton LPG and Gasoline Forklift
Using LPG/petrol powered forklifts
LPG forklifts offer outstanding performance, low emissions and excellent fuel economy.
LPG/petrol powered forklifts can perform any type of material handling job, from transporting goods from one site to another; loading trucks to warehouse racking operations and more.
The LPG/petrol powered forklift truck range is available in capacities from 1,000 kg to 7,000 kg.
Use of Electric Forklift Trucks
Electric forklift trucks offer you one of the most reliable, powerful and comprehensive ranges of products designed for execution.
An environmentally friendly, resourceful and quiet way to handle a wide range of unit loads, including distillers, pallets and pallet boxes, electric forklifts offer you a complete choice for any application.
Electric forklifts are available in capacities ranging from 1,000kg to 3,500kg.
1.5 Ton
Use of Pallet Jacks
A pallet jack also recognised as a pump truck, pallet pump or pallet truck is a device that is used for lifting and moving pallets.
Pallet trucks are the most basic type of forklift truck and are used to move light or heavy pallets around a warehouse.
Pallet trucks / electric pallet trucks are available with capacities ranging from 1,000 kg to 3,500 kg.
Use of Tow Tractors
Common in airlines around the world, tractor arrays are most commonly used for moving loads and also for factory applications.
Tractor capacities range from 2,000 kg to 10,000 kg.
Use of stackers
Stackers' range of forklift trucks offers maneuverability, greater durability, low running costs and smooth top-end travel speeds.
Stackers are available in capacities from 1,000 kg to 2,000 kg.
Reach Stacker
Use of reach trucks
Forklift trucks are manufactured in such a way that they can operate in narrow aisles within warehouse areas.
To distribute the load weight, they have two outer legs with one or two wheels per leg in wheel configuration. Under the operator's seat, the drive wheels are located; the operator sits sideways when operating the machine. The forklift truck moves the load back into the wheelbase as it is lifted, which means that the forklift truck overhangs the load less, allowing the forklift truck to operate in narrower aisles.
The load capacity of a reach truck ranges from 1,000 kg to 3,000 kg.
Using order pickers
Order pickers present inherent features and controls such as low step heights and padded platforms, ergonomic control handles, and panoramic views to help workers get more done with less effort.
Order picking is an important part of any warehouse interior. It represents 45% of the operating costs of any distribution centre compared to the receiving, storage and shipping phases and has a direct impact on customer satisfaction.
Order pickers range in capacity from 500 kg to 2,000 kg.
Use of manual handling equipment
Manual handling equipment is designed for companies with smaller handling requirements.
This manual handling equipment is robust, very reliable and safe to operate. They can be used by anyone with appropriate training from a supervisor and no licence is required to operate them.
The range of manual handling equipment includes narrow aisle pallet trucks, electric platform trucks and electric trucks with cranes, electric pulling horses and scissor lift tables.
The manual handling range has capacities from 1,000 kg to 3,000 kg.