Sep. 22, 22
A telehandler, also known as a telescopic handler, a forklift is a hugely versatile lifting machine that is most often used in the construction industry. They have telescopic arms that can lift loads and extend/retract to adjust the maximum extension/lifting height of the machine. Their main use is to lift pallet boards and they can move heavy loads to heights that would be difficult to reach by any other means.
For the most part, modern telehandler forklifts incorporate various capabilities, boosting their efficiency in a number of different jobs. Most are fitted with a telescopic boom that can accommodate a variety of lifting attachments and equipment to suit appropriate jobs. They also include features that make them suitable for a diverse range of terrains and environments, amplifying their versatility and helping workers in many industries get on-site processes completed quickly, safely, and efficiently.
Most machines can replicate the functionality of forklifts, cranes, and overhead work platforms (by attaching the platform to a telehandler hitch). This is achieved through a design element known as 'quick connect', essentially to enable operators to switch from one attachment to the next in a quick and safe manner. This minimizes the time and effort associated with transporting heavy loads and reduces the time required to perform large tasks that would otherwise require multiple machines.
3.5 Ton Telehandler
The main advantages of telehandlers
1. Heavy lifting
When fitted with the correct attachments, telescopic handlers are able to lift heavy loads to unit lifting capacity and height specifications, including palletized and non-palletized loads. While the movement capacity of a forklift truck is one-dimensional, telehandlers can move diagonally, enabling them to pick up and transport loads that cannot be lifted by a standard forklift.
With their increased maneuverability telehandlers are able to easily access odd angles and tight spaces with their extendable boom, making them the ideal materials handling solution for confined spaces.
2. On and off-road capability
The telehandlers' four-wheel drive function allows the unit to operate both on and off-road.
The units are equipped with large, robust tyres capable of supporting the lifting and transport of heavy loads, while also easily traversing the rough terrain often encountered on construction sites, farms or farmland, and even mining sites.
Units can also be road registered, which allows them to operate on marked bitumen roads so that they can safely and easily deliver goods to the site when off-loading from delivery trucks or between job sites.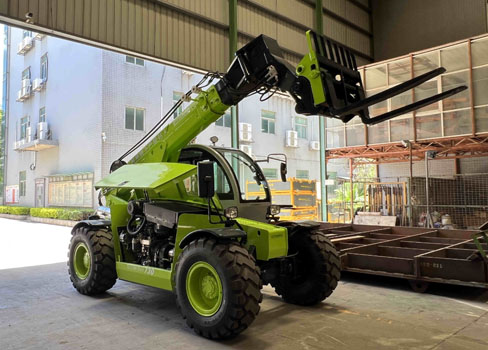 3 Ton 7m Telehandler
3. Versatility
A telehandler telescopic boom is a key to the unit's versatility. A variety of specially designed interchangeable attachments can be securely attached to the end of the moving arm using the unit's quick connect mechanism.
Examples of telehandler attachments and their uses include:
Forklift carriages allow the telehandler to lift a variety of loads including pallets, timber, pipes, and other long loads.

Crane jibs convert telehandlers into modified cranes to lift loads for which conventional forklift tynes are not suitable, for example lifting loose construction materials including liquids, sand or anything that might be dumped can be placed in a bucket and then lifted with a crane jib.

Scoop and bucket attachments can be fitted to enable telehandlers to lift loose materials such as sand, with the scoop attachment enabling the unit to load goods into the bucket attachment before lifting.

The work cage or platform can be attached to the telehandler to safely lift workers to high places to complete the job.
The combination of the attachment array and the versatility of the telehandler can also result in significant cost savings in completing projects as it can replace the need to purchase or hire additional capital equipment such as cranes and elevated work platforms to complete the job.
Contact us today to secure an expert consultation!