Sep. 06, 22
Understanding how to choose the right forklift for the job requires expert insight if you want to find the most efficient and cost-effective machine. In addition to size and power source, when choosing a forklift you need to assess various factors that affect long-term costs, including how much and how high the machine can lift, how careful you need to be in the area when operating loads in sensitive situations and whether you should buy or rent a forklift.
There are many different types of forklift trucks, each designed for a specific job. So how do you know what type you need for your business? There are several important factors to consider when choosing the right forklift.
1. Lifting height
Knowing the lifting height you require is equally important and will affect the load-carrying capacity of the unit.
The average forklift truck in daily use starts at a lifting height of 8 feet and goes all the way up to 20 feet, but there are units that go well above these levels. Again, much will depend on the nature of your business, the size of your warehouse, and the specific use you intend to make of the forklift.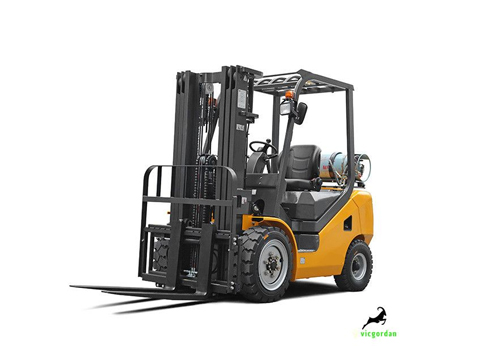 1.5ton LPG and Gasoline Forklift
Similar to maximum loads, you want to make sure you choose a forklift that meets your height restrictions. You will need to consider this.
What is your typical lifting height?
What is the highest point the forklift needs to reach?
Are there any height restrictions to consider (such as ceiling beams or low-hanging lights)?
You must also consider the folding height of the mast, especially if you need the forklift to move under a fixed-height structure, such as a garage or container door. Also, check your warehouse height and aisle width requirements as this will greatly assist you in finding the right forklift.
2. Fuel types
There are three fuel options available - electric, gas, or diesel.
Electric forklifts will cost more initially, but over time you will reap the rewards as they have a longer life and are cheaper to consume than other types of forklifts. They also run very quietly and produce no emissions, so indoor or cold climate work is recommended.
Petrol or diesel forklifts can lift larger loads and move faster. If the forklift will be used for heavy lifting or outdoors, a diesel forklift is highly recommended.
With gas forklifts, you can choose between LPG or CNG - both are quick to refuel and have a long service life.
1.5 Ton
3. Load size/capacity
Choosing a forklift with a lower maximum lifting capacity than you require would be a big mistake. It is important to look at.
What stock will the forklift handle?
What is your average load weight?
What is the heaviest load you need to lift?
What is the width of your load?
The type of load is also important, as there are specific forklift attachments that can enhance a standard forklift and help you move the load more efficiently. There are many types of attachments available: electrical clamps, carton clamps, paper roll clamps, etc.
Side shifting is another feature that allows you to move any load from side to side without having to move the truck. This allows for more accurate load placement.
3 Ton Electric Forklift
4. Tire's choice
There are several types of tires available for use on forklift trucks. The most common are solid or pneumatic tires, but there are also white non-marking and cushioned tires - each has its own specific use and is suitable for a particular environment. Choosing the right tire can affect the handling and safety of a forklift truck.
5. Ergonomics
A high-quality adjustable seat is important as forklift operators sit on their machines for hours at a time. Investing in quality ergonomics will reduce the likelihood of injuries, such as back pain, which can be caused by repetitive tasks performed in an uncomfortable seat.
Whether you need more information, a quote, or advice for a project, we would be delighted to talk to you.