Nov. 10, 22
In a warehouse environment, you may find a fleet of machines to handle the job at hand. The fleet will include regular forklifts, articulated forklifts, reach stackers and pallet trucks to provide a complete and comprehensive approach to warehouse material handling. Regular forklifts are used to transport and store conventional pallets in a working environment, while articulated forklifts provide more manoeuvrability within narrow aisles and passageways.

Pallet trucks are ideal for handling larger and heavier pallets, which is often the case in construction, while frontal cranes are made for their named purpose - reaching and stacking. Regular forklifts and pallet trucks have a limited range of heights, making them suitable for everyday use, but inadequate when it comes to stacking and reaching high places. Today we will focus on the advantages of a reach stacker and how these machines can have a positive impact on your warehouse storage fleet, providing a practical design for high reach and stacking of warehouse materials.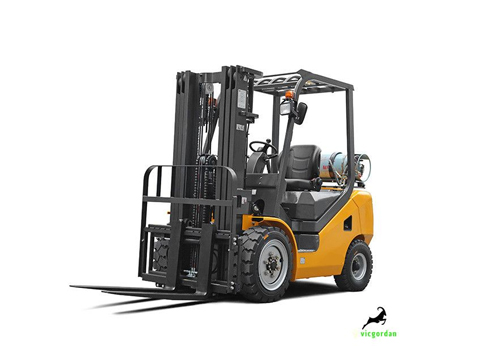 1.5ton LPG and Gasoline Forklift
A reach truck forklift can make it easier to access inventory while allowing you to use more of your warehouse space for storage. In particular a reach truck forklift contributes to these goals by allowing you to create narrower aisles within your warehouse.
A reach truck forklift requires a narrower aisle because it is designed with the drive wheel underneath the driver. As a result, it has a much tighter turning radius than does a normal forklift. This tighter turning radius allows it to use less space to navigate aisles. With less aisle width, you can devote more space to storage, which means you get more out of your existing warehouse space.
A regular forklift requires an aisle width of about 3.7 meters. A reach truck forklift, however, thanks to its narrower turn radius, requires an aisle width of only 2.4 meters. This means that you can reduce your aisle width by 35 percent without affecting your ability to access your inventory.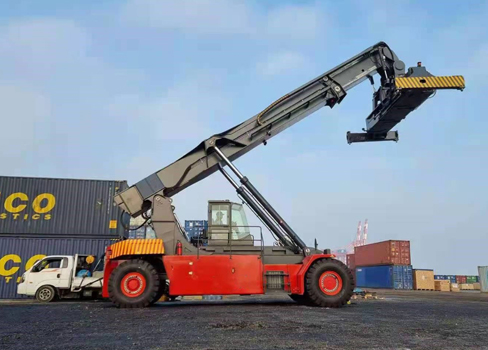 Reach Stacker
The footprint within a warehouse is important as it allows for a larger storage area and provides more space for storing warehouse materials. Sometimes the footprint may be limited for various reasons and this is where solutions must be found. A common solution to opening up more space is to add temporary mezzanines within the warehouse. This can cause some problems with vehicle access and to avoid this, reach stackers can be used and racks can be extended to access more storage space in your facility.
Vicgordan offers a wide range of reach stackers for sale, including our range of Raymond stacker cranes, to enable your warehouse to maximise the space available for optimum storage levels. Vicgordan also offers a range of viable warehouse material handling vehicles that can form a fully operational work fleet for your storage facility, with plenty of options to suit your preferences and working environment.
We have a large range of industrial solutions for lifting equipment, including a range of advantageous reach stackers that can take your warehouse storage to the next level. For more information, please feel free to browse our website for detailed specifications or contact us directly with your enquiry. Choose Vicgordan today and let us take your business to new heights with our selection of machinery.