Jan. 10, 23
A telescopic handler is a versatile piece of equipment that goes by a variety of names. Also known as telehandlers, teleporters, reach forklifts, boom lifts, lull or cherry pickers, telescopic handlers are commonly used in agriculture to move hay and hay bales. This is the main reason why telescopic handler rentals are so popular - throughout North America.
Primarily used in agriculture, telescopic handlers are becoming increasingly popular in industries other than agriculture and can now be found on construction sites and in manufacturing plants, for example. They can be used for a variety of jobs, including unloading heavy loads from trucks, clearing sites, moving materials and ploughing snow.
The basics of telescopic handlers
The hybrid crane forklift, telescopic handler can also be fitted with other attachments such as buckets, dirt grabs or winches. It can also be fitted with a platform attachment for use as a moving boom lift.
The extendable boom on a telescopic handler can usually be raised at an angle of 70 degrees and extended to 30 feet or more. The maximum weight limit of a single telescopic handler is determined by a number of factors including boom extension, angle, type of attachment and wind speed.
The maximum lifting capacity of a telescopic handler ranges from 4,400 lbs to 12,000 lbs, depending on the size of the equipment. However, the maximum lifting capacity cannot be achieved within the maximum range and should always be used with care.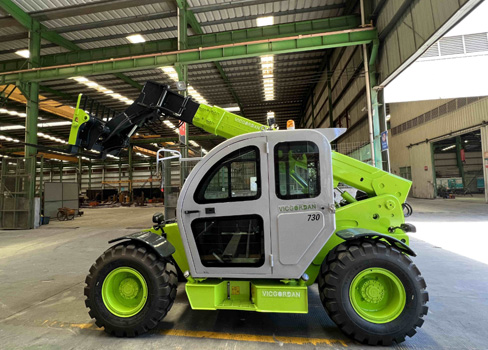 Common uses for telescopic handlers
The telescopic handler is a truly versatile piece of equipment. The extendable boom and the ability to use a variety of attachments offer many different applications for telescopic boom forklifts.
Used primarily as a 'lift and place' tool, the telescopic handler is considered a more advanced forklift because it has greater reach than conventional forklifts.
It can be equipped with pallet forks, buckets, lifting arms, sweepers and work platforms. With so many different attachments, telescopic handlers can help perform tasks such as lifting and moving materials, moving dirt loads, cleaning sites, lifting workers to airborne heights and even snow removal.
Advantages of Using a Telehandler
High load capacity
Telehandlers are capable of lifting several tonnes of material. They are much more robust than similarly sized cranes and forklifts. Thanks to their design, telehandler can lift heavy loads to very high heights. Other machines with similar power have much lower height load height limits.
On and off-road driving
Telehandlers are available with four-wheel drive. They can easily traverse the roughest terrain imaginable, while still being roadworthy. Their on- and off-road flexibility makes them an excellent choice for construction, agriculture and a variety of other industrial applications.
Industrial use
Telehandler are particularly useful for multi-storey construction work. Because they can be used on rough and uneven surfaces, they have proved valuable on new construction sites where horizontal surfaces have not yet been developed around the structures being built. Telehandlers are also popular at specific times of the season or when building new infrastructure such as barns and storage facilities.
Versatile
Telehandlers are one of the most versatile mobile cranes available. You can add forklifts, buckets, winches, mud buckets and several other attachments to the moving boom. Thanks to their versatility, telehandler can handle many different types of work on site.
We offer a wide range of forklifts and telescopic telehandlers, welcome to contact us.